Gin 'Prickly Pear & Orange Blossom'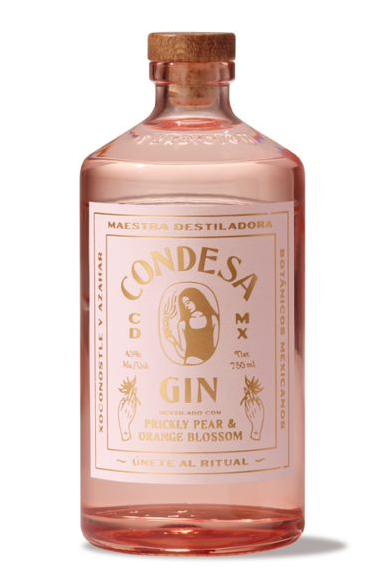 Micro-batch gin crafted at Flor de Luna, a women-owned-and-operated micro-distillery located in Mexico City, established in 2015, and run by Maestra Destiladora, Hillhamn Salome.
Botanicals include juniper, xoconostle (magenta prickly pear), orange blossom, raspberry, coriander, and lime zest; all are sourced in Mexico
Neutral grain base distillate of corn, rye, wheat, and barley; sourced in Mexico
Produced using two 400-liter copper pot stills that were manufactured in Mexico, specifically for Flor de Luna.
A two-day maceration of juniper, prickly pear, raspberry, coriander, and lime zest is run on one of the two stills to create a botanical concentrate which is then brought to proof. Separately, an orange blossom tincture is distilled and precisely incorporated into the final blend.
A truly dry gin with zero added sugar
Vibrant prickly pear, floral orange blossom, and a pop of raspberry acidity combine to deliver a refreshing and summery spirit.
43% ABV
Inspired by afternoons in Mexico City, Condesa Prickly Pear & Orange Blossom dials back the juniper and exhibits a light, natural sweetness from the xoconostle (magenta prickly pear). This expression is a great gateway gin for newcomers to the category and works well in any cocktails that feature fruit, such as an Aviation, Clover Club, or Bramble.
Info
Spirit Type:
Gin / Genever
Sizes Available
| | | |
| --- | --- | --- |
| Full Bottle | MX-XCG-05-NV | 12/750ml |
Tasting Notes
An unabashed attempt to bottle sunshine, Condesa Prickly Pear & Orange Blossom Gin draws its inspiration from golden hours in Mexico City—gathering with friends to soak up the last rays of waning sun as the endless possibilities of evening approach. Distilled using copper pot stills, six botanicals including juniper, xoconostle (magenta prickly pear), orange blossom, raspberry, coriander, and lime zest are incorporated into a Mexican-sourced neutral grain base of corn, rye, wheat, and barley. All botanicals are also sourced in Mexico, primarily by women growers. Vibrant prickly pear, floral orange blossom, and a pop of raspberry acidity combine to deliver a refreshing and summery spirit. 43% ABV.