KBA-1M
Champagne Brut Reserve, Henri Billiot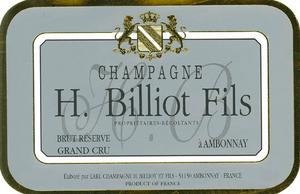 Cépages: 75% Pinot Noir, 25% Chardonnay
Assemblage: 50% 2015, 25% 2014, 25% 2013
Vineyard/Village: Ambonnay Grand Cru
Malo: No
Elevage: enameled tanks
En Tirage Aging: 36 months
Producer:
Country:
France
Region:
Champagne
Appellation:
Montagne de Reims
Variety:
Blend- Champagne
Color:
White
Case Pack:
6
Bottle Size:
1500
Import Partner:
Terry Theise
UPC:
7-477361-282322
Tasting Notes
50% 2014 and 25% each of '13 and '12—we are finally rid of 2011 here. Disg 11/2016. The color is curiously dark (shallot-skin) and the wine approaches rusticity. That said, it's clean and the RS it carries is needed to balance the brisk acidity. Still, this is the cuvée with the greatest distance still to travel. —Terry Theise
POS Resources
Request a shelf talker/case card
Press & Reviews
Spectator
Score:
93
Date:
2013-08-29
Review:
Richly spiced, with a skein of ground clove, ginger and cardamom winding through flavors of dried apricot and apple, currant candy, passion fruit and lemon zest. Beautiful texture and balance here, followed by a long and mouthwatering, mineral-tinged finish. Drink now through 2020. 300 cases imported. –AN
Tanzer
Score:
90
Date:
2013-12-20
Review:
(75% pinot noir and 25% chardonnay from Ambonnay, 50% from 2010, 25% from 2009 and 25% from 2008; disgorged in July, 2013 after two years on its lees): Light yellow. Pungent aromas of poached pear, strawberry, orange pith and gingery spices. Juicy, penetrating citrus fruit flavors give way to deeper red berries with air and pick up a smoky nuance. Finishes spicy and long, with lingering floral character and good clarity.