CPH-534
Cabernet Franc, 'Moon Mountain', Cross Barn [P. Hobbs]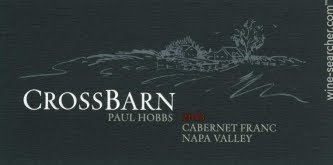 Established in 2000, CrossBarn is renowned winemaker Paul Hobbs's innovative winery dedicated to crafting wines of stunning quality and exceptional value using sustainable vineyard practices and traditional winemaking techniques. These sophisticated yet approachable wines focus on appellations with worldwide acclaim, including the Napa Valley and Sonoma County for cabernet sauvignon, and the cool Sonoma Coast for chardonnay, rosè and pinot noir.
Our Moon Mountain Cabernet Franc showcases hand-harvested fruit from carefully selected vineyards in this rugged, hillside district of Sonoma County. CrossBarn Cabernet Franc offers the distinct flavors and structure that are true to this varietal.
2014 was the third straight outstanding growing season in a row, following the excellent 2012 and 2013 vintages. Dry winter and spring conditions limited canopy vigor, and a warm growing season with a lack of extreme heat spikes resulted in prolonged, even ripening through harvest. The resulting wines possess great site specificity, depth and quality.
Hand-harvested grapes, picked at night from Moon Mountain District
88% Cabernet Franc, 12% Cabernet Sauvignon
Average of 26-days of maceration, including 5 day cold soak
Primary fermentation with native and selected yeasts
Native malolactic fermentation
Aged 20 months in French and American oak barrels, 12% new oak
Producer:
Vintage:
2014
Country:
US
Region:
California
Appellation:
Napa
Variety:
Cabernet Franc
Color:
Red
Case Pack:
12
Bottle Size:
750
Tasting Notes
Color: smoldering crimson Aroma: florals, hibiscus, black tea and cedar Flavor: red berries, fresh herbs, red clay, milk cocoa Texture: ethereal flavors with a freshness, mineral allure
POS Resources
Request a shelf talker/case card
Press & Reviews
Parker
Score:
92
Date:
2017-10-31