JP-XMU-01-NV
Barley Shochu, 'Mizu - Saga Barley', Munemasa Distillery
Munemasa is one of Japan's youngest distilleries with deep roots in the past. The current company was founded in 1985 in the town of Arita in southern Japan, but the Munemasa family has over 120 years of experience making sake and shochu. Originally based in Hiroshima, they left the area following the destruction of the Second World War and resettled in the Arita, famous throughout the country as the birthplace of Japanese porcelain and its traditions of craftsmanship. They make shochu that looks past current fads to older recipes and methods, as well as new ingredients and techniques that have not been tried before. The resulting Mizu shochu brand can be appreciated by purists and people new to the category looking for something unique.
Producer:
Vintage:
NV
Country:
Japan
Region:
Saga
Appellation:
Saga Prefecture
| | | | |
| --- | --- | --- | --- |
| Sizes Available: | SKU | Case Size | Bottle Size |
| Full Bottle | JP-XMU-01-NV | 12 | 750 |
Tasting Notes
Classic barley shochu style, made from a 400 year old recipe of 67% two-rowed barley and 33% black koji rice. At 35% ABV it is more concentrated like shochus of old, and makes a great alternative to vodka in cocktails, with much more body, richness and depth. On its own has a floral, sake-like aroma with notes of banana bread and fresh grains. Buttery texture. Drinks like a young whisky with hints of ripe melon and vanilla custard.
Resources
Request a shelf talker/case card
Related Recipes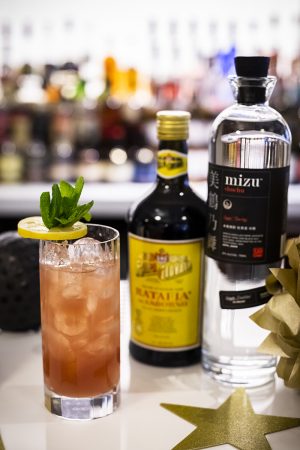 Barley Shochu Highball