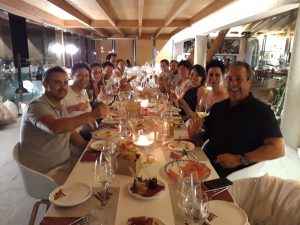 It was our first night in Arzachena and we weary travelers sat before a feast. A banquet table set for twelve guests was furnished for 25 with reams of crackly flatbread, rich sheep's milk cheese, sweet langoustine crudo, and whole-roasted bream, all accompanied by ever-refreshed glasses of Vermentino di Gallura. "Come si dice 'a second wind?'" Steadily revived by the generous hospitality of our friends from Surrau, we asked our hosts if any such idiom existed in the Italian language.
"A second wind?" Giovanni and Alessandro exchanged bemused glances at the unfamiliar phrase. "We've never heard this expression before." It could be their indefatigable nature. Or perhaps in this ancient land a scant few miles from the Emerald Coast it is the Mistral, that unrelenting current of cool air funneled through southern France, to which no wind is second. On the winding drive along Strada Statale 125, crags of granite cliff striated pink like marbled beef are laid bare, windswept and weathered by this phenomenon over countless years.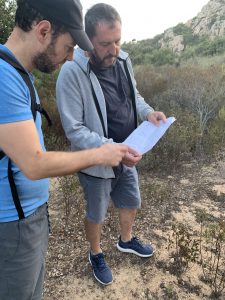 Tucked just a few kilometers inland, Surrau's seven vineyards span about 50 hectares. The DeMuro family are native to the region and have been making wine here for generations. But it was only about twenty years ago when Tino DeMuro, who had built a thriving construction business, decided to invest heavily in the land's potential. In the years that followed he and consulting oenologist Beppe Caviola assembled a crack team of young talent to elevate Surrau to its current prestige: agronomist Fabio Isoni, oenologist Mario Siddi, and the sales team, Giovanni Melis, Alessandro Pedini, and Giandomenico Zedde. We met Fabio upon arrival to Giannisolo vineyard, a gently undulating amphitheater that stretches fifteen hectares. As we meandered through the rows, he spoke of the unique relationship between the granite soil, the wind, and the grapes that thrive here.
"Vermentino needs heat, but it also needs to be dry," he explained of the variety to which 70 percent of the land is planted. The soil is sandy with pockets of very fine gravel called scheletro, which drains water quickly. When it does rain, moisture doesn't stay long on the vines; the wind blows everything dry within minutes. This is important for Vermentino in particular, as the variety is known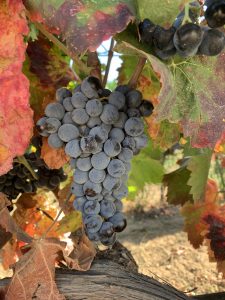 to swell up quickly with water. It also means that pests and disease are never an issue and the vineyards are maintained without the use of chemicals. The Mistral is so strong, in fact, that it actually blows away the cloud cover, permitting full and ample sunshine to ripen the grapes, while at the same time lowering the temperature, which helps the fruit retain acidity.
This steady wind here shapes the rock, tends the vine, and seems even to influence the winemakers themselves, who are tireless and driven, as if lifted by an unseen force. This is why wine made in this spot, in this land, by these people, is so special. Stick your nose in a glass of Sciala; it evokes every part of this incomparable place– the sea salt air, the deep fruit borne of sunshine, the gale-force tension, the sage-driven macchia, and the fine granite minerality. There is nothing else like it on earth.
---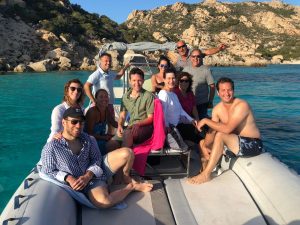 ---