Reuscher-Haart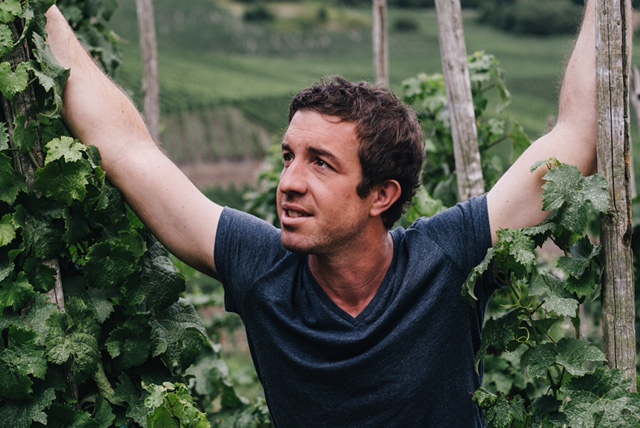 The Reuscher-Haart wine estate is still located in the Haart family's ancestral home in Piesport, where the estate was founded in 1337. Hugo Schwang took over management of the wine estate from his grandparents, the Reuscher-Haarts, in 1968, and has worked consistently to base the estate on organic principles. In 1984 he received the first national honorary award for the consistently high quality of his wines. Since completing his studies at Geisenheim, Mario Schwang took over winemaking from his father Hugo in 2006.
The Schwangs have an impressive collection of parcels in the original, pre-1971 consolidated Piesporter Goldtröpfchen. Located directly behind their house with direct southern exposure, these parcel holdings include the ancient, steep parcel in the 'Domherr' (cathedral) directly in the middle of the Goldtröpfchen. The blue slate of the Goldtröpfchen is extremely soft and weathered, and because the vineyard is shaped like an amphitheater, the middle section receives ample direct sunlight but is protected on all sides by cool winds from the Mosel river. The Piesporters from Reuscher- Haart are charming and succulent, with persistent, spicy minerality. The Piesporter village wine comes from their parcels in the Grafenberg a steep south-east facing strip just west of the Goldtröpfchen, as well as Günterslay, which lies across the Mosel River from the village.
1987 marks the beginning of sustainable farming for the estate: pesticides and insecticides are avoided, healthy cover crops prevent erosion and contribute to vine health, and wide row spacing is implemented to ensure optimum sun exposure. Selective hand harvesting is done to limit yields between 6,000 and 7,000 liters per hectare. The Schwangs ferment exclusively with ambient yeast in stainless steel, 1000 liter tanks, and finish bottle under vinolock, as they believe this closure best mimics the reductive style of winemaking they employ.
Vineyard area: 6 hectares
Annual production: 4,200 cases
Vineyard holdings: Piesport – Goldtropfen (blue slate, clay, sandstone)
For more information, please view the Terry Theise catalog here.
Farming Practice:
Sustainable
View Producer Site