Madl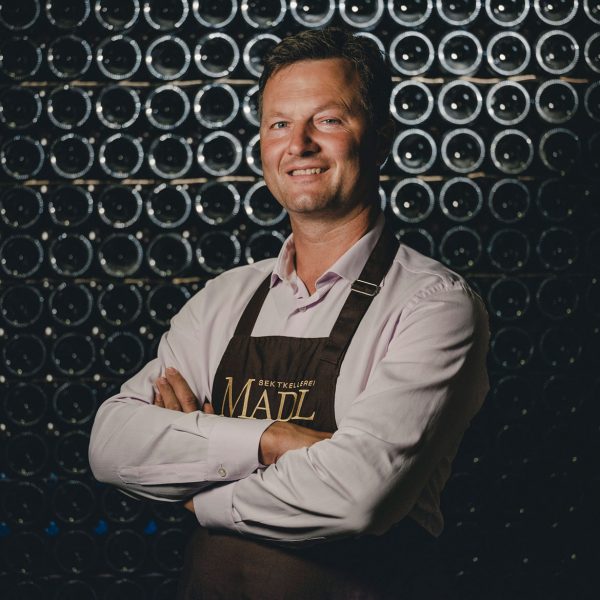 We found Christian Madl through our friend Peter Schleimer, the editor of Vinaria, one of the most highly respected wine magazines in Austria. For the past 4 years, Madl has taken the number one and often the second and/or third spot in every blind tasting that they've done. We first tasted the wines several years ago at Landhaus Bacher in the Wachau. Having just been in tasting in Champagne, we were floored by how good these wines were. They were the very best sparkling wines we'd tasted outside of France. They're unique, exciting and full of energy. Since our first tasting, we've met Christian a number of times, tasting a new set of releases with each visit. If anything, the wines have steadily improved from that first tasting three years ago. I'm very happy to report that the first order is on its way, landing on the 15th of January.
Madl is a family winery, started in 1990, has been run by Christian Madl since 2003. The estate is small, under 3.5 hectares, in the village of Schrattenberg, in an area called Poysdorf, on the Czechoslovakian border. It's as far north in the Weinviertel as you can get. The climate here is much cooler than the Danube river area, perfect for making sparkling wine. Prior to returning home in 2003, Christian worked at Champagne Sanger in Avize, Raumland (probably THE most famous sparkling wine producer in Germany) in the Rheinhessen and Poll Fabaire, another well regarded winery in Luxembourg.
Everything at this address is treated like Champagne – grapes are hand harvested, pressing is gentle and Christian uses only the cuvée for producing his wines. Christian grows Welschriesling, Riesling, Chardonnay, Pinot Blanc, Pinot Noir, Grüner Veltliner and Zweigelt for his wines. Wines are fermented in stainless steel and wood, depending on the cepage, vineyard and wine he is producing. Bottling is normally done in spring when the liqueur de tirage is added. All of Christian's wines are on the lees for a minimum of 15 months and up to 60 months. Every bottle is hand riddled prior to disgorgement. Dosage is always done by trial and tasting is never formulaic. A final word: his motto is "50 handlings per bottle." The guy's a fanatic, just the kind we like.