Eugen Müller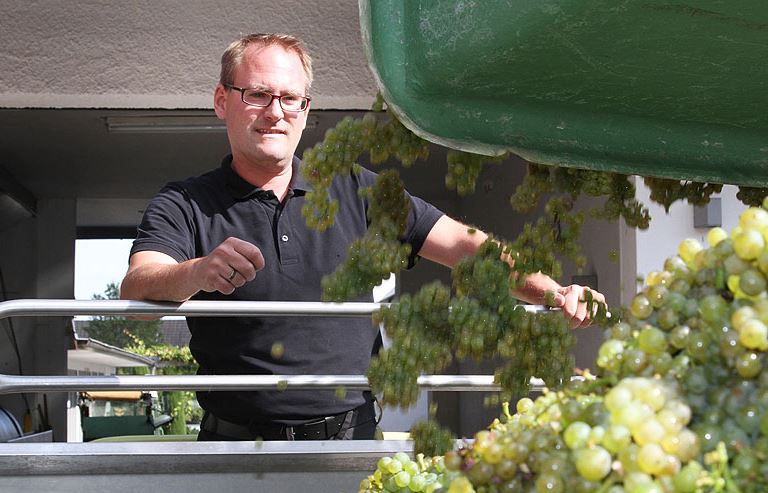 Weingut Eugen Müller (17 hectares)
Forst / Pfalz / Germany
This estate was initially established in 1767 as a cooperage and in 1935 the winery began producing wines of their own. Kurt Müller and his son Stephan are the 3rd generation to run the estate. Stephan joined the family business in 2000 after completing his studies in viticulture at Geisenheim.
The specialties of the estate are the racy, aromatic and elegant Riesling wines which prosper in the excellent Forster Grosses Gewächs sites Kirchenstück, Jesuitengarten, Ungeheuer, and Pechstein. The basalt found in the soils around Forst acts as a thermal reservoir, radiating warmth slowly during the night and thus reducing the daily variations in temperature. In addition, these well-ventilated soils which warm up quickly allow the development of fruity wines rich in minerals and extracts. In 1828, the King of Bavaria, who ruled the Palatinate at the time, conducted a soil survey of all vineyards: top Forst vineyards achieved the highest point scores between 55 and 65. The Forster Kirchenstück scored the maximum possible 65 points. At Eugen Müller, vines are a minimum of 15 years for all Pradikät wines, even if ripeness is achieved at a younger age.
The Müllers follow the guidelines of certified environmentally-friendly wine growing. Mechanical soil tillage, environmentally friendly plant protection, and selection of the grapes for harvesting during vintage are all maintained with sustainability in mind. Vinification is practiced with slow, cooled fermentations and maturing in stainless steel tanks as well as wooden barrels.
Vineyard area: 17 hectares
Annual production: 14,000 cases
Founded In: 1935
Top Sites in Forst:

Kirchenstück: Limestone, sandy loam, basalt
Jesuitengarten: Sandstone, sandy loam, basalt
Ungeheuer: Sandstone, gravel, limestone
Pechstein: Basalt
Musenhang: Weathered sandstone
Freundstück: Sandstone, gravel, limestone

Grape Varieties: Mainly Riesling, some Pinot Noir, Pinot Blanc, Pinot Gris, and Sauvignon Blanc
Farming Practice:
Sustainable