Caraccioli Cellars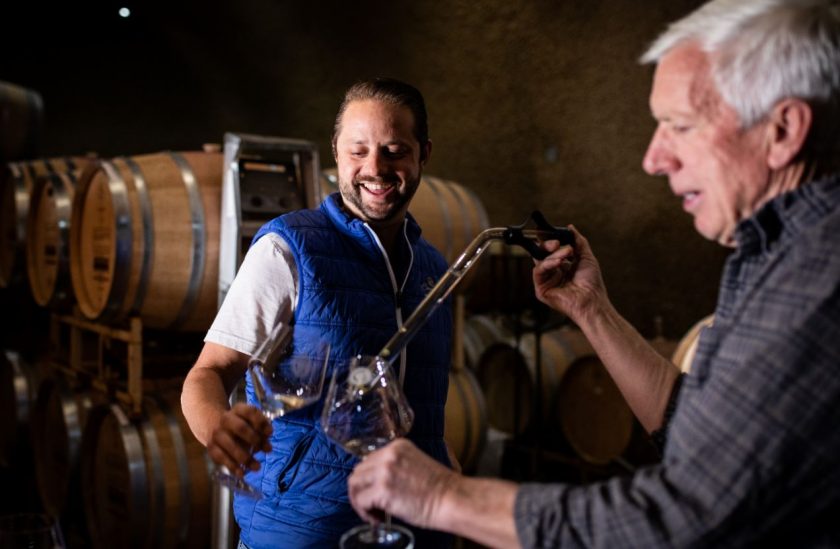 The Caraccioli family have been farmers in the Salinas Valley for generations, and in 2006 Gary convinced his brother Phil and his uncle Jim to take some of the acreage they had in the Santa Lucia Highlands AVA, that wasn't really suitable for most kinds of agriculture, and turn it into a vineyard. The idea of producing sparkling wine was there in the early days, but when they were introduced to a Monterey retiree, the plan to make a single-site sparkling wine was solidified. The retiree in question was none other than Michel Salgues, who had worked for Louis Roderer for most of his career, including the last nineteen at Roederer Estate in Anderson Valley, where he was the founding winemaker. Although they settled on the Mendocino site, in the early days, Salgues and his team had looked at other areas in California, including Santa Barbara and Monterey. As he moved on to international consulting, and splitting his time between France and the US, he had found Monterey to be a charming home base and could often be found at Passionfish or The Sardine Factory. They began planting these 124 acres in 2008, while also looking for vineyard sources to purchase fruit from until the estate vineyard, planted to Chardonnay and Pinot Noir with a dizzying number of blocks and clones, came online. In the northern corner of the AVA, it is much windier that some of the better known vineyards a few miles to the south.
It begins in the vineyard, where the meticulously farmed grapes are picked at night, and again on the crush pad, where only the first light pressing of juice is used, 120 gallons (well below what the law in Champagne mandates: 150-180gl.) Some of the lots are fermented in barrique, but all are done so with ambient yeast. Everything is barreled down-post fermentation for a few months rest before blending, except in a few rare occasions when they have ran out of barrels. The wines get a nice long élevage, four years on the lees, and then are held back after disgorgement, under cork, for about two years.
Although Salgues passed away in 2017, he was able to oversee the blending of the first fully estate vintage, in 2015, which will likely be disgorged next year. Scott Caraccioli, Gary's son, has assumed day-to-day operations, as well as handling the sales and marketing of the wine, which we at Skurnik are excited to have in our portfolio.