Adega do Vulcão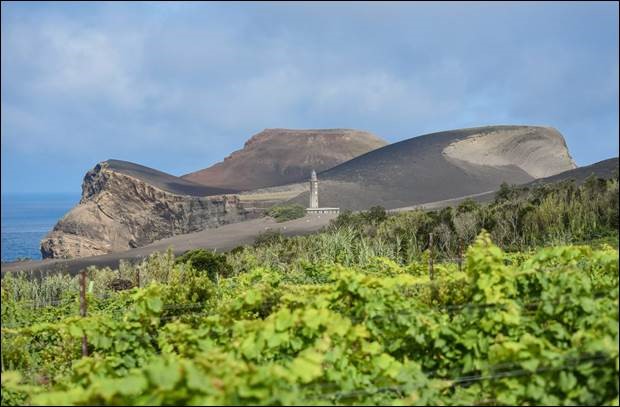 The story of Adega do Vulcão is the story of the magnetic pull of an utterly unique landscape—the Azores Islands. To call them 'Portuguese', though technically correct, is to belie their far-fluing isolation in the near middle of the Atlantic Ocean. It was here, to the island of Faial, that Florentine couple Gianni Mancassola and Cinzia Caiazzo first repaired in 2008, and it was here that they returned again and again until finally permanently relocating in 2015. Enchanted with the old winegrowing tradition on nearby Pico Island, they began the quixotic project of planting Arinto, Verdelho and Terrantez in what would become the only commercial vineyard on the entire island of Faial, all under the watchful eye of the Vulcão dos Capelinhos and rooted in the most recently-formed new landmass in Europe.
Vineyards & Viticulture
A short ferry ride east of Faial lies the island of Pico, famous for its 2500-foot volcanic mountain (the tallest in all Portugal) and for being the historical center of Azorean wine cultivation. Though their own backyard vineyard was planted in Faial, Mancassola and Caiazzo couldn't resist the lure of acquiring a few incredible old-vine parcels on this island as well, these situated in the aptly-named criacão velha ('old planting'), an area distinctive enough to have gained UNESCO World Heritage status. Here, eighty-year-old bushvines find shelter from the whipping Atlantic seaspray among an astoundingly intricate labyrinth of centuries-old stone walls called currais. Cultivation is painstakingly manual to the extreme.
The combined fruit of these two sister Azorean islands finds scintillating expression in Ameixambâr, a wine which (though miniscule in production in absolute terms) represents the lion's share of Adega do Vulcão's production and is the only cuvée available until next year. This is a pungent, salty, mineral white of the highest caliber whose uncompromising origins are on full display in the glass. It belongs on the table with the world's great volcanic island whites, be they from Santorini, the Canaries, or Etna—and this young, tiny winery is only just coming into the fullness of its powers…
History
On September 23rd, 1957, fishermen off Faial's Ponte dos Capelinhos reported an unsettling phenomenon: the ocean was boiling. Four days later, eruptive clouds flew a kilometer into the sky, and the next day the ash began to descend, blanketing the western edge of the island and forcing an evacuation. The ash would continue to fall for thirteen months, by which time an entirely new hulk of land had emerged from the waves: the Vulcão dos Capelinhos. It was in the basaltic fallout of this eruption, one unique in the annals of vulcanology for its duration and ability to be closely observed, that Adega do Vulcão's first vineyard would be planted nearly sixty years later.