Above: Rodolphe Péters of Champagne Pierre Péters.
---
Recently, articles have been written in The Wall Street Journal and Wine Enthusiast about Grower Champagne. Both well-written pieces touch on familiar themes, a re-telling of the David and Goliath parable: big brands versus small, artisanal growers.
While this narrative is true – one company controls almost 1/3 of the production in Champagne – the designation of 'RM' (Récoltant-Manipulant) alone is not necessarily a stamp of quality.
The Rise of RM
Grower Champagne as a category is relatively young; the wines sold slowly when they were first introduced to the United States more than two decades ago, but eventually, they changed people's perspective on Champagne as a region. In the beginning, emphasizing just how huge the dominating Négociant Manipulant (NMs) were and talking about farmers versus factories was helpful, necessary even. Lallement's total production is under twenty thousand bottles per year; Möet reportedly releases between thirty-three and thirty-eight million bottles of their Brut Imperial each year. This kind of comparison was tailor-made to the sensibilities of Americans in the late 1990s.
Smaller grower-producers, some with land in just a few villages, allowed us to see the variation in Champagne and how these wines express a sense of place.   The non-vintage wines from a grower in the Côte des Blancs taste markedly different from the wines of a grower in the Montagne de Reims. The very best houses have always focused on the different terroirs as individual elements which bring different characters to their wines.  The growers revealed the individuality of these places through necessity; often their wines were made from a single village or even a single vineyard.  These wines from a narrower set of places helped wine drinkers understand the region and its wines better. As wine drinkers explored these wines, origin became part of the conversation, and the way we thought and talked about Champagne changed. Champagne drinkers wanted to know what grape varieties were in the blend, what villages they came from, and how the vin clairs were aged before bottling. We talked not about "house style", but vintages and en tirage aging. Wine professionals in retail shops and restaurants did the heavy lifting, helping wine drinkers navigate this region with fresh eyes. The wine press took note, as did the bigger houses.
 A Shift in the Houses
There was a time when some négociants eschewed the very idea of terroir. Many Chef de Caves said that Champagne should taste like a "mosaic of the region" and that "the art of blending" should supersede terroir. The name on the bottle and the house style associated with that name was more important than anything else, certainly than where the wines came from.
As the market changed and Champagne drinkers explored and became more educated, larger growers had to adapt. Houses, like Philipponnat and Lanson, released new single-site wines. Veuve Cliquot recognized that they could no longer compete on marketing alone and Krug's ID code gives more transparency than we could have dreamed of a decade ago. The "Grand Maisons" across Champagne have sought to improve or at least to change the way they talk about the wines from Champagne. The very best houses have been focusing on vineyard work for decades; now they could talk about it to a wine-drinking public who was more inquisitive.
Now, as wine drinkers are savvier than ever, houses have embraced this as a part of their own story to tell. This profound shift in the way Champagne is talked about and marketed is due to the introduction and then the success of growers. Houses are talking about what they are doing in the vineyards and their commitment to wine first, rather than Champagne as a luxury product.
A significant number of big names took note of the market's request for less fashion, more transparency, more identity. The very best houses positively evolved to produce better Champagnes, with more personality.
Rodolphe Péters
 RM vs NM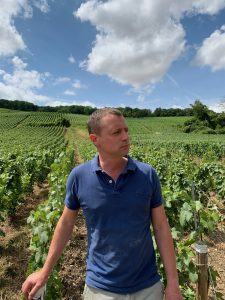 The designation of RM (Récoltant-Manipulant) and NM (Négociant-Manipulant) matters less now than when Grower Champagne was introduced more than twenty years ago. The tale of the tiny vigneron, making wines with care based on carefully tended vineyards versus the manufacturing of wines by huge conglomerates doesn't leave much room for the reality of how Champagne has changed over the last decade. The truth is always more complicated than we'd like it to be and there are different levels of quality in NM and RM producers alike.
Many growers in the region have changed their designation from RM, which requires the estate to own 95% of the grapes that go into their wines, to NM. This shift allows these growers much-needed flexibility in a region where harvest date, yield, and production are strictly regulated. In some cases, this move was a necessity based on the peculiarities of French inheritance law; it had become the only way they could maintain their domaines.
A number of the most important and top-class growers have moved their labeling from RM to NM. Laurent Champs of Vilmart & Cie and Rodolphe Péters of Pierre Péters are two of the most well-regarded growers in the region who have made this change. Top growers like Cédric Moussé, Sébastien Mouzon of Mouzon-Leroux and Jérôme Prevôst have all shed the RM designation to allow more flexibility.
Producer and Place First
We've moved beyond the somewhat simplistic way of talking about Champagne as "big vs small" or "RM vs NM". The rise of the grower will always be a part of the story. Growers like Selosse and Egly-Ouriet led us to discover Champagne as wine, just like any other great region. Today, producer and place have come to the forefront and will only increase in importance.
Like all great wines of the world, the very best Champagne reveals a feeling and flavor of a particular place and a point of view. We have only to look to the steadfast quality of the growers in this portfolio and their rise to some of the most sought-after wines on the planet, regardless of RM or NM designation.
GATEWAY GROWER CHAMPAGNES
These wines are an excellent introduction to the world of Grower Champagne. Each wine comes from a different sub-region of Champagne, clearly expressing place. Tasting these three wines next to one another will further illustrate the regional differences found in Champagne, as well as different vinification methods to compare stylistic differences from winemaking.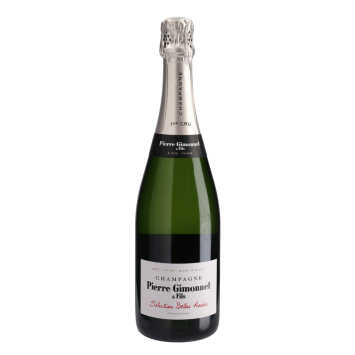 Pierre Gimonnet & Fils Cuis 1er Cru Brut NV
The Brut "sans année" or "Brut without vintage" from Didier Gimonnet is a benchmark Côte de Blancs champagne. All Chardonnay, from the Premier Cru village of Cuis, where the winery is located, this wine shows the classic character of the northern Côte. It's crisp, brightly citrusy, and lifted, with the textbook saline mineral finish that makes wines from this region so identifiable.
"This is the most complicated wine I make" says Didier. It comes from over 80 different parcels and components each year, from wines fermented and aged in a stainless steel and some reserves held in bottle. This is a great introduction to the distinctive Chardonnay-focused wines from this area.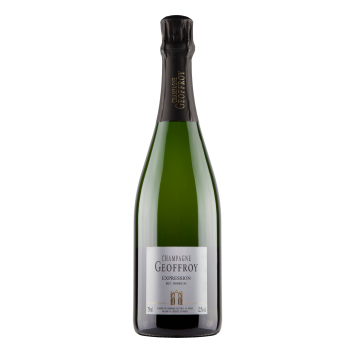 Geoffroy Expression Brut NV
Jean Baptiste Geoffroy's Expression is one of the most complex non-vintage wines we offer. The base each year is half from a perpetual cuvée started by Jean-Baptsite's father Rene in 1970. Each year, half of this special reserve is drawn off to make the new blend of Expression and topped up with wine from the current year. Expression which is always based on the Premier Cru village of Cumières, has small amounts of wines from the last 50 years. One-third of the total blend is also raised in neutral oak of varying sizes, further adding layers of complexity.
Cumières is one of the warmest villages in the Grand Vallée de la Marne, but Expression is always on the savory and umami side of the flavor spectrum. Geoffroy shows that even a red fruit-dominated wine like this (a third each of Meunier, Pinot Noir, and Chardonnay), from a ripe terroir doesn't necessarily produce a juicy, fruit-forward wine.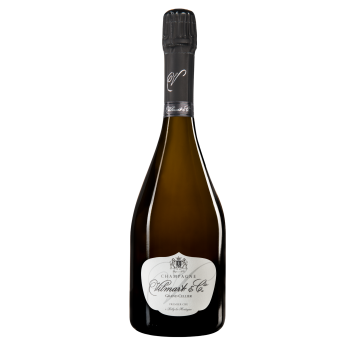 Vilmart & Cie Grand Cellier NV
Laurent Champs has been making exquisite champagnes in the Premier Cru village of Rilly la Montagne in then Montagne de Reims for the last 30 years. This area of Champagne is very diverse in terms of grape variety, vineyard exposition, and soil. Vilmart's NV comes from a single east-facing vineyard called Hautes Grèves and is predominantly Chardonnay, with only thirty percent of the blend Pinot Noir.
Laurent raises all of his wines in neutral oak for ten months before bottling, giving the wines a distinctive character. His wines feel at once elegant and textured but also incisive, with bracing acidity and structure that makes them harmonious and a perfect accompaniment at the dinner table.