Molettieri is one of the most fascinating young producers to come out of Campania … [and] one of my favorite[s]."—Antonio Galloni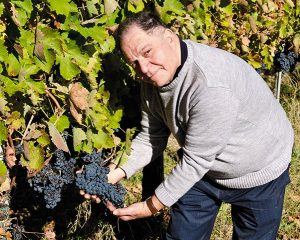 It's said that with tragedy often comes opportunity, and that was certainly the case for Salvatore Molettieri in Campania. On November 23, 1980, a tremendous earthquake rocked Southern Italy, causing devastation in Campania and Basilicata. For generations, the Molettieri family were farmers in the rustic hills of the Irpinia region of Campania. Like many other farming families in Italy, they grew grapes and grain, but also kept livestock for themselves and for sale. After the disaster, funds became available to local farmers for reconstruction. Salvatore Molettieri, a long time supplier of grapes to the Mastroberardino family, saw a chance to start a new life. He built a wine cellar to start vinifying his own grapes instead of selling them, and he produced his first Taurasi in the 1990 vintage. The Molettieri estate skyrocketed to international fame quickly, but this didn't come as a surprise to someone like Marc de Grazia. He had tasted the enormous potential in Sal's wines and knew that Antonio Mastroberardino had long relied on the Molettieri family as the source for one of his top single village bottlings of Taurasi. With Marco's assistance, Attilio Pagli came on board to fine tune the techniques of production, and Molettieri quickly became one of Taurasi's most respected producers. Salvatore's son Giovanni studied enology nearby in Avellino and is now in charge of production, while his brothers Giuseppe and Luigi work full time in the vineyards.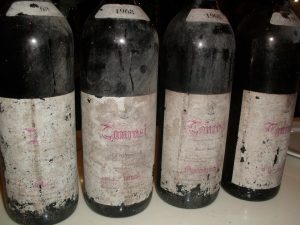 In the old system in Italy, especially in Piedmont and Campania, large producers either didn't own vineyards or supplemented their own productions by sourcing grapes from local farmers. The success of these big wineries depended on their ability to find the absolute best sources of fruit for their wines. If the grapes from one area made truly exceptional wines, the bottler would emblazon the source on the front label. Mastroberardino found a few such sources in the Taurasi appellation. And in fact, some of his legendary wines of the 1960s bore the name "Montemarano" on the bottle—and this fruit came from the Molettieri family's vineyards.
Montemarano is one of the seventeen communes in which Taurasi can be produced, and it's considered the east side of the appellation. The origin of the soil is volcanic sand and mud with high levels of calcium and potassium that was compacted over the millennia to sandstone and clay agglomerates with some sand stratification. The compact nature of the soil, combined with high altitudes and larger changes in night and day temperature, make Montemarano Taurasi more austere and dense, and in need of more time to reach maturity. Molettieri's winemaking defies classification as either modern or traditional. The appellation itself is a classic, and Salvatore does what he can to transmit the best expression of his high-altitude vineyards (500-550 meters above sea level) without interference from technique. In the vineyard, they employ integrated pest management. They do not use insecticides or herbicides. They use cover crops and also fertilize with organic manure, and only use copper and sulfur sparingly.
Winemaking:
Irpinia Aglianico
From 5 hectares of the Cinque Querce vineyard at 500-550 meters above sea level. Primarily from the younger vines. 12 days of fermentation and maceration on the skins before being put into cask. Half of the wines matures in barriques of 2nd and 3rd passage, while the other half ages in large oak cask for 24 months.
Taurasi
Alcoholic fermentation and maceration with the skins lasts for 20-25 days in temperate controlled stainless steel. 50% of the wine matures in new and second use barriques, 50% in large oak casks from 50 to 80 hectoliters of both French and Slavonian oak. Every six months the wine in the barriques gets racked into the large oak casks and vice versa. The wine matures for 40 months in total. It is then blended and it rests in steel before bottling.
Taurasi Riserva
The grapes from the Riserva come from the oldest vines at the highest elevation in the Cinque Querce vineyard. Alcoholic fermentation and maceration with the skins lasts for 20-25 days in temperate controlled stainless steel. The wine matures for approximately 48 months in barriques and tonneaux (the quantity produced is too small to age in very large casks). Approximately 360 cases produced each year.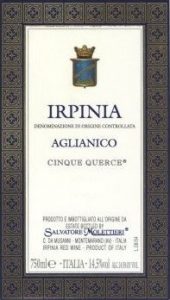 Molettieri Irpinia Aglianico 2013
100% Aglianico grown in calcareous clay soils. Maceration on the skins 10-12 days in steel, followed by six months of aging in second use barrique and an additional ten months of aging in large Slavonian oak casks. The wine is then finished in the bottle for six months before release.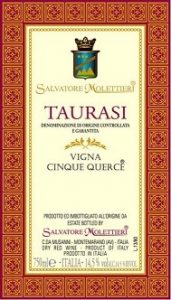 Molettieri Taurasi Vigna Cinque Querce 2006
WA94 "Once again, Molettieri has produced some of the most successful wines among this year's crop of new releases from Campania. These four wines represent essentially different selections of Aglianico from the Molettieri family's Cinque Querce vineyard. The 2006 Taurasi Vigna Cinque Querce is an utterly impeccable, brilliant wine. Vibrant dark cherries, flowers, and minerals all flow onto the palate with remarkable concentration. The proverbial iron fist in a velvet glove, the Taurasi Vigna Cinque Querce delivers incredible richness while retaining tons of clarity, inner perfume and harmony. This is a fabulous effort from Molettieri."
Molettieri Taurasi Vigna Cinque Querce 2007
WA92 "Salvatore Molettieri and his son, Giovanni, make bold wines that capture the richness and power of Aglianico. The estate is located in Montemarano, long regarded as one of the most prestigious zones for Aglianico. Molettieri's 2007 Taurasi Vigna Cinque Querce is a big, big wine. Mocha, espresso, game, tar, licorice and dark raspberries meld together in an unusually ripe, flashy Taurasi. The 2007 boasts tons of richness and sheer power."
Molettieri Taurasi Vigna Cinque Querce 2008
WA92 "Elegant and toned, the 2008 Taurasi Vigna Cinque Querce is a true gentleman among the unruly group of personalities that make up the Taurasi appellation. This is a standout expression that delivers an enormous sense of balance that is difficult to achieve with a grape that puts so much emphasis on tannins and structure. You get firmness at the back, but Cinque Querce is also supple and smooth in texture. The wine shows great length and purity. If you love Aglianico, don't miss this wine."
Molettieri Taurasi Vigna Cinque Querce 2010
Vinous 94+ "Fully saturated ruby. Deep, spicy aromas of red cherry, raspberry, black pepper, nutmeg and licorice on the captivating nose. Then dense, powerful and complex, offering pure flavors of floral red fruit and spicy herbs and noteworthy tannin/fruit/alcohol balance. Seamless and very bright, featuring a whiplash of refreshing acidity and floral red berries on the very long finish. This is a knockout Taurasi that will age splendidly, though it's already approachable now. The vines are roughly 18-20 years old and are located at 550-600 meters above sea level on clay-calcareous soils."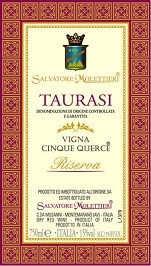 Molettieri Taurasi Riserva Vigna Cinque Querce 2007
WA94 "The Molettieri family has released another fine collection of Aglianico-based red wines. Among the delights is the 2007 Taurasi Riserva Vigna Cinque Querce which is one of the most interesting wines tasted in this report. More than a wine, the 2007 Taurasi Riserva Vigna Cinque Querce is an experience. Dig your nose deep into the glass, and you feel as if you are absorbing the aromas from a fistful of moist volcanic earth. Dark fruit, cola, mineral tones, blackberry, spice, licorice, tar and candied chestnut all lift from the beautifully intricate bouquet. The complexity here is truly outstanding and the wine evolves slowly with each additional minute in the glass. It boasts a super smooth texture, with enormous richness and persistency. This is an outstanding achievement that should continue its slow evolution in the bottle."
Molettieri Taurasi Riserva Vigna Cinque Querce 2008
Vinous 94+ "Deep ruby with an amber rim. Brooding coffee and cocoa nuances complicate rich dark cherry and blackberry syrup on the nose. Large-scaled, dense and juicy, showing tactile flavors of dark berries and chocolate complemented by a note of underbrush. This long, smoothly tannic wine pulls off the neat trick of being a behemoth while staying light on its feet. Still, it needs a lot of time to show its best."