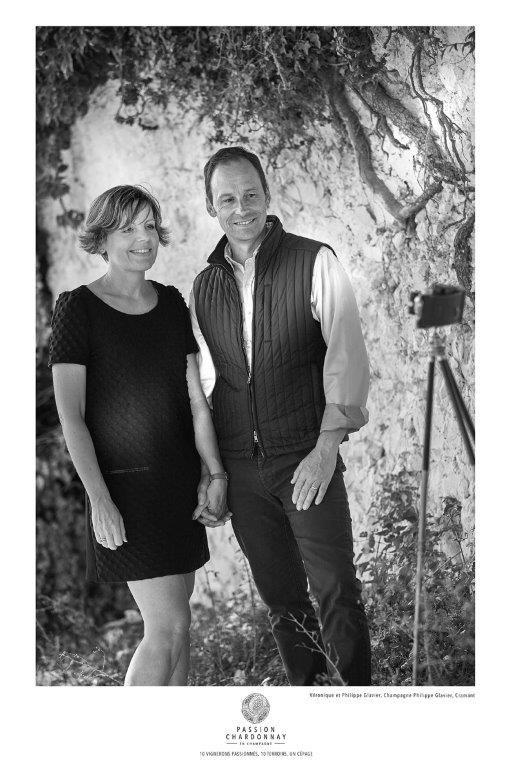 Philippe and Véronique Glavier manage this small (4.5Ha) estate in the village of Cramant. This is a family-run domaine; Philippe who studied in Avize, works the vineyards and cellar while Véronique manages the business. Véronique is the 12th generation of winegrowers in Monthelon, and as she was growing up she was categorically certain of one thing — she would never marry a wine grower. As fate (and life) would have it, she met Philippe, on a skiing trip in 1993 and he changed her mind.  Champagne Glavier began in 1995. Phillipe used the cellars of Véronique's family at first, until they were able to buy their own cuverie and build the press house and cellar. They were able to secure vineyards in Mesnil, Oger and Avize as well. In the last 20 years there has been a lot of work, and a lot of investment. Essentially, this is a winery started from scratch. Today, they manage the estate in Cramant with holdings in Avize, Oger, Cramant and Les Mesnil-sur-Oger.
Glavier has 49 different terroirs over 4.5 hectares; each terroir is picked at optimal ripeness and vinified separately. The various finial cuvées are assembled by taste and not by recipe.
Terry writes "What most impressed me about these wines was a singularity of style. Many of the Champagnes I work with are marked by a certain texture; lacy, detailed, crystalline, transparent, refined. I adore such wines, but even more than that, I adore variety. Glavier's wines are strong, analog, they compare to Gimonnet as vinyl does to CD. In my portfolio they join a group that includes Pehu-Simonnet, Billiot, even Geoffroy in many ways. And that is why I want you to see them, because they are entirely classy and they show all the breed of GC Blanc de Blancs, but they're sturdy and solid rather than chiseled and filigree. Normally if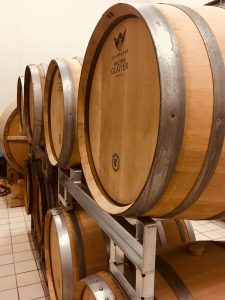 you see such wines they're rustic and muddy, but you can find wines with torque and also with refinement, and you will find them here. Véronique may disagree with me, at least a little. She avers that the wines enact a harmony among laciness, power and elegance, and of course she has a point. If I describe them as 'strong' it doesn't mean that's all they are. It means they lead with muscle."
Terry first tasted these wines after a trip to the best caviste in Champagne: 520 in Epernay. He bought a couple of bottles, took them home and was impressed. Over the next year, he tasted through a wider range of disgorgements: "Every bottle I opened was tasty and interesting, and they didn't taste like anything else I knew in the Côte des Blancs." We went to visit there in March; the estate is just down the street from Diebolt. Isabelle Diebolt is married to Jean-Paul Hébrart, a wonderful grower we already work with in Mareuil, and it turns out that the couples are friends. No surprise. Like the Diebolt and Hébrart families, the Glavier's are incredibly kind and gentle people and their wines reflect the personality of the family.