As the holidays approach, hosts begin to reach even more eagerly for sparkling wines to welcome their guests and toast to a prosperous year–or in other cases, a better year ahead.  Skurnik Wines and Spirits is proud to now represent the premier producer of bubbles here in the United States: Caraccioli Cellars.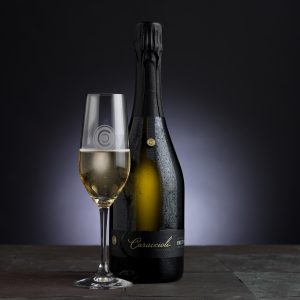 It can be argued that sparkling wine is perhaps the most difficult style of wine to produce, not just from the perspectives of viticulture and vinification, but also the barriers put in place by the inherent financial commitment of a product that, even if you had readily producing vines, can take years to be released.  It is no wonder then that despite the New World's success with other styles of wine, that sparkling wine has been a bit of an outlier.
This wasn't always the case, in fact, in the middle of the 19th century wineries in the Cincinatti wine region were producing as many as a quarter of a million bottles of sparkling wine, and a commiserate level of still[1] wine, but that sparkling Catawba bears little resemblance to anything one's recently tasted (unless you hang out in the Finger Lakes a lot).  Essentially obliterated by powdery mildew and the Civil War, it is one of the many stories in American wine history that doesn't result in the establishment of still-standing sparkling producers.
Some stories do turn out okay, of course, and "California Champagne" can be legally used on wineries that had some evidence of doing so before 2006.  Cook's claims to be the first, starting in 1859, but André and Korbel, which started making méthode Champenoise wines in 1882, and went from producing 150,000 cases in 1984 to more than a million today, continue to use the designation, to the utter dismay of the CIVC.  Despite these seemingly huge successes, though, there were many more false starts aiming to produce a more artisanal product.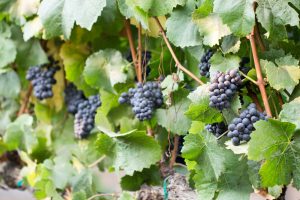 Martin Van der Kamp, for example produced some beautiful sparkling wines from his vineyard on top of Sonoma Mountain, but moved away from production in favor of grape growing for producers like Siduri and DeLoach.  Dan Wheeler, who was instrumental in establishing the viticultural scene of the second half of the twentieth century in places like Santa Cruz and Lake County (his day job was as an engineer at Hewlett-Packard), also experimented with Champagne-style wines, but abandoned it when he struggled to sell any wine at all.  Similarly, Mirassou, which survives as a brand, had big ambitions for sparkling wines, but had far greater success with still.  Even here on the East Coast, Charles Fournier, who had previously made the wine at Veuve Clicquot experimented with Chardonnay and Pinot Noir planted with an eye towards bubbly, but never made a substantial impact.
Two things changed, perhaps with a causal relationship, beginning with the Davies family's purchase of the old Jacob Schram estate in Calistoga, on the slopes of Diamond Mountain.  Schram, a German immigrant had been somewhat successful in the 19th Century, shipping his "hock" and "Chablis" to the East Coast, and had dug huge caves into the side of the mountain, which would later become perfect for the vast amounts of storage a sparkling wine house must maintain.  In 1965, Schramsberg produced its first wine, and it rocketed into the national spotlight when President Nixon used it in the 1972 "Toast to Peace" with China's Premier Zhou Enlai, with a young Barbara Walters informing the country on television that this California "blank da blank" was well-received.
In 1973, seeing opportunity in California, Moët and Chandon set up Domaine Chandon; Roeder established Roederer Estate in '82, and Taittinger followed with Domaine Carneros in 1987.  All have continued to grow, and despite using words like "Domaine" and "Estate" have generally followed a negociant model, purchasing fruit from a variety of sites across the region (that is not to denigrate their estate holdings, which in some cases are quite a large source).  At the turn of the millennium, however, as the Grower Champagnes of Pierre Gimonnet and others began to work their way across the Atlantic, the opportunity to find inspiration in a different methodology for sparkling was presented.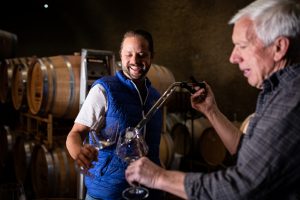 The Caraccioli family have been farmers in the Salinas Valley for generations, and in 2006 Gary convinced his brother Phil and his uncle Jim to take some of the acreage they had in the Santa Lucia Highlands AVA, that wasn't really suitable for most kinds of agriculture, and turn it into a vineyard.  The idea of producing sparkling wine was there in the early days, but when they were introduced to a Monterey retiree, the plan to make a single-site sparkling wine was solidified.
The retiree in question was none other than Michel Salgues, who had worked for Louis Roderer for most of his career, including the last nineteen at Roederer Estate in Anderson Valley, where he was the founding winemaker.  Although they settled on the Mendocino site, in the early days, Salgues and his team had looked at other areas in California, including Santa Barbara and Monterey.  As he moved on to international consulting, and splitting his time between France and the US, he had found Monterey to be a charming home base and could often be found at Passionfish or The Sardine Factory.  They began planting these 124 acres in 2008, while also looking for vineyard sources to purchase fruit from until the estate vineyard, planted to Chardonnay and Pinot Noir with a dizzying number of blocks and clones, came online.  In the northern corner of the AVA, it is much windier that some of the better known vineyards a few miles to the south.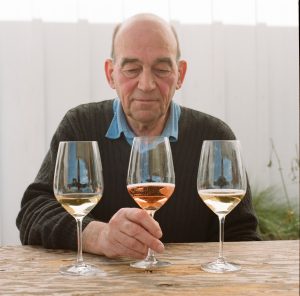 Salgues, along with Joe Rawitzer (who, although being a Monterey native, had spent some time working in the Anderson Valley in the 90's – where he first met Salgues), set out to use the same level of vinification quality that he had at Roederer Estate, which he borrowed not from the majority of Champagne production, but the means by which the Grand Margques produced their tête de cuvées.
It begins in the vineyard, where the meticulously farmed grapes are picked at night, and again on the crush pad, where only the first light pressing of juice is used, 120 gallons (well below what the law in Champagne mandates: 150-180gl.)  Some of the lots are fermented in barrique, but all are done so with ambient yeast.  Everything is barreled down-post fermentation for a few months rest before blending, except in a few rare occasions when they have ran out of barrels.  The wines get a nice long élevage, four years on the lees, and then are held back after disgorgement, under cork, for about two years.  Although there are small lots of other bottlings, including a still Pinot Noir, à la Coteaux Champenois, the focus is on two wines: the Brut Cuvée and the Rosé, which have similar assemblages of 60% Chardonnay and 40% Pinot Noir–the only difference being the addition of still Pinot Noir in the rosé.  The twelve gram dosage may seem high to those who favor low or zero-dosage Champagnes, but the finished pH is rather low, and the total acid quite high (not to mention the liquer d'expedition is assembled from base wine that was aged sur lie), resulting in a balanced wine.  The six atmospheres of pressure, standard, lend a fine and persistent mousse.
Although Salgues passed away in 2017, he was able to oversee the blending of the first fully estate vintage, in 2015, which will likely be disgorged next year.  Scott Caraccioli, Gary's son, has assumed day-to-day operations, as well as handling the sales and marketing of the wine, which we at Skurnik are excited to have in our portfolio.
Currently, the 2012s are available, and express the precision of great Champagne, with a certain quality to the fruit that expresses the sunniness of California's Central Coast. It is hopefully a portent of things to come here in the United States.
[1] Thomas Pinney, A History of Wine in America 166

Caraccioli 'Santa Lucia Highlands' Brut Cuvée 2012
V:92 – "Pale yellow-gold. Intensely perfumed lemon pith peach and jasmine scents are underscored by smoky mineral and fennel nuances. Chewy sharp citrus and pit fruit flavors show excellent focus and tension and a hint of toasty lees adds back-end depth. Bright citrus pith and spiciness emerge on the mineral-tinged finish which features a suave lingering floral quality." – Josh Raynolds, Vinous 

Caraccioli 'Santa Lucia Highlands' Brut Rosé 2012
V:91 – "Bright orange-pink. Raspberry cherry and candied rose scents are accompanied by subtle vanilla and toasty lees nuances. Smooth and broad on the palate offering sappy red berry and tangerine flavors that turn sweeter on the back half. Seamless in texture and quite lively for its heft with no rough edges. The long red-fruit-dominated finish features a bracing mineral quality." – Josh Raynolds, Vinous