In 2019, Giovanna Bagnasco (proprietor of Brandini in Barolo) and her husband Carlo Mondavi (grandson of Robert and proprietor of RAEN in Sonoma, CA) took the reins at Sorì della Sorba and set about immediately converting the farming to organic with an eye towards permaculture.
The first results, in a word, are stunning. A single-vineyard Langhe Nebbiolo of such elegance and finesse as to make Barolo producers jealous! The estate's second vintage has just inbounded, and with it, we're excited to also introduce 'Solo Per Amore' — a brand-new cuvée from Giovanna & Carlo. 
---
In a steep, raw territory caught between the breezes of the Mediterranean Sea and fresh air of the Italian Alps is where the story of Sorì della Sorba begins; the Sorì della Sorba vineyard sits just 500 meters, or less than a quarter-mile, from the villages of Barolo, centered in the winemaking area known as Dogliani D'Alba. Half of Dogliani D'Alba lies within the Barolo wine region, and this estate is positioned just outside of the famous DOCG, an area of great, world-class potential which is capable of sitting alongside the world's finest.
Sorì della Sorba represents not only a homecoming of the Mondavi family back to Italy where their roots are from, but also a continuation and progression of this husband-and-wife team's shared philosophy: an approach to viticulture with permaculture practices as the first approach to everything in the vineyard.
Giovanna and Carlo are combining years of experience, plus knowledge coming from two distinctive winemaking families, to transform the way wines are made in the Langhe region of Italy. To learn more about their approach, we sat down with Giovanna to discuss the full Sorì story…
THE INTERVIEW
A NEW VINTAGE AND A NEW CUVÉE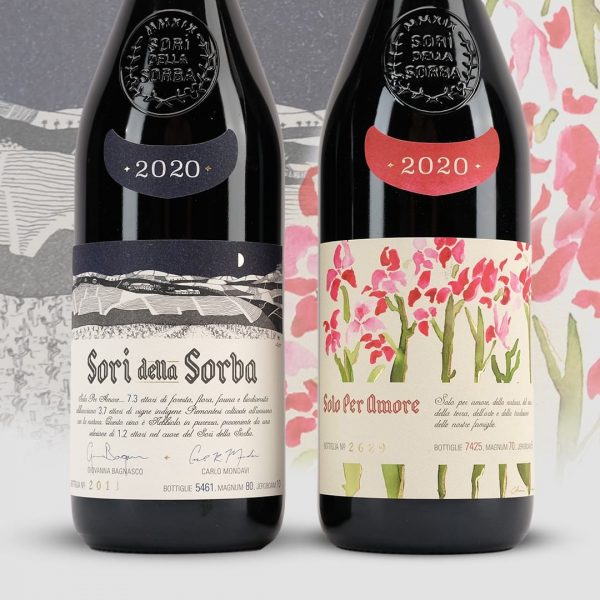 The Sorì della Sorba Langhe Nebbiolo is a special estate bottling dedicated to encapsulating the purest representation of Giovanna's site– and the King of grapes varieties, Nebbiolo. Sorì della Sorba is the historical name of this vineyard site; in Piemontese dialect, a 'Sorì' is the special designation of greatness, or 'grand cru', and translates to: "where the snow melts first," which often means south-facing and highest on the hill.
The 2020 vintage of the Langhe Nebbiolo shows lifted aromas of crushed black cherries, rose petals, wet rock, savory herbs, and forest floor. On the pallet, the wine builds with wild berries, rose petals, orange pith, damp forest floor, and truffle. Fine-grained tannins build as they hold together the delicate floral notes to an everlasting finish.
Giovanna's brand-new cuvée, 'Solo Per Amore', translates to "for the love of it," paying homage to the incredible history of this area, where steep and rocky soils of limestone, clay, and sand compose an amphitheater where her vines are rooted.
The wine is a Vino Rosso blend of 60% Dolcetto (the workhorse of the Dogliani region), and 40% Nebbiolo, and represents the best qualities of the whole site at Sorì della Sorba. It is complemented visually with a label design by Carlo Mondavi's sister Chiara.
This debut release shows aromas of sun-ripened black cherries, red rose petals, and clay, with notes of spring lavender fields. On the pallet, red cherries with crushed wild berries, forest floor, savory herbs, and wet rock lead to a beautiful finish that reflects the site in which 'Solo Per Amore' was grown.
THE WINES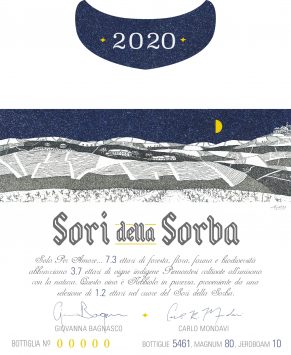 Langhe Nebbiolo 'Sori della Sorba', Sori della Sorba
• 100% Nebbiolo

• Source from 1.2 HA at Sori della Sorba estate in Dogliani d'Alba

• 450 meters (1,500 ft) elevation

• Lequio Formation soils consisting of limestone, sand, and clay

• Farmed using permaculture, organic & biodynamic practices

• Native yeast fermentation in stainless steel

• 80% whole cluster

• Aged in large Slavonian oak vats

• 500 cases produced

• Winegrowers: Carlo Mondavi & Giovanna Bagnasco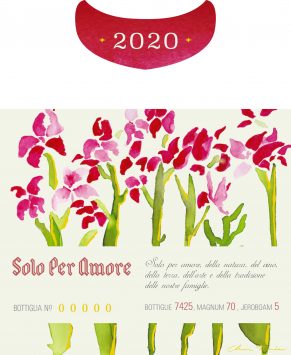 Langhe Rosso 'Solo Per Amore', Sori della Sorba
• 60% Dolcetto, 40% Nebbiolo

• Source from 2.5 HA at Sori della Sorba estate in Dogliani d'Alba

• 450 meters (1,500 ft) elevation

• Lequio Formation soils consisting of limestone, sand, and clay

• Farmed using permaculture, organic & biodynamic practices

• Solo Per Amore translates to "for the love of it…"

• Native yeast fermentation in stainless steel

• 80% whole cluster

• Aged in large Slavonian oak vats

• 550 cases produced

• Winegrowers: Carlo Mondavi & Giovanna Bagnasco