"Our tractors always break down around here," says Jacques Devernois, as he tours the rocky terrain of the Domaine de Thalabert vineyard. Each step he takes in this lake of stones must be carefully considered for the sake of ankle fortitude. "We have to employ a small army of workers who follow from the back, removing rocks that get stuck in the plough. Honestly, the horses work much better."  With his boyish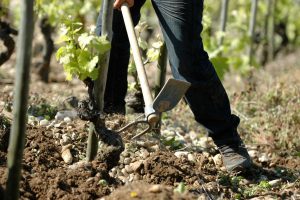 features that lend a Keanu Reeves-like glow of eternal youth, Paul Jaboulet Aine's director of winemaking can't hide a disarming giddiness while traversing this prized site. He has a tendency to speak with urgency, his cadence sparing no time on frivolous pauses or breaths. "I always loved history in school, and growing up in the Rhône valley around wine, I sometimes can't believe I get to make wine from Thalabert. It's a great honor and a big responsibility." Taking a moment to look around the vibrant, biodynamically farmed vines, he says with a confident smile, "I better not mess it up." The enormity of his task couldn't be larger, for he holds court over one of the oldest vineyards in the Northern Rhône– the true beating heart of Paul Jaboulet Aîné.
The history of Crozes-Hermitage is inextricably linked with Thalabert and Jaboulet. The earliest records of winemaking in this region can be traced to the early 14th century, a time when barrels of wine from the village of Mercurol were shipped across the channel to London. The trail goes dark until the early 18th century, when wines from the northern village of Larnages were regularly exported to England by way of Bordeaux. Back then they were sold as 'Vin de Mure', named after Larnages' wealthiest family.
It wasn't until the early 19th century, just after Antoine Jaboulet purchased Thalabert, that wines from Crozes-Hermitage grew in reputation and price to levels that put them near the top of the pecking order in the Rhône valley. Jaboulet documents show that casks of 1889 Crozes Rouge from Thalabert were sold for 500 francs per 220-litre barrel. For comparison, Cornas and Saint Joseph were sold for 400 francs per barrel and Chateauneuf du Pape a measly 350 francs. The only barrels of wine that fetched a higher price were from Hermitage and Côte Rôtie. The message was clear: Thalabert is the gold standard for price and quality for all of Crozes-Hermitage. It is a distinction that holds to this day.
Before Crozes-Hermitage gained official appellation status in 1953, the wine made from Thalabert was called 'Côtes du Rhône-Thalabert', a rare single-vineyard designation for the time. The name was then changed to 'Crozes-Hermitage Thalabert' before settling on Domaine de Thalabert in 1980 to denote its status as a wine of estate origin. The Jaboulet family were great stewards of this prized parcel of land for decades until the head of the family, Gérard Jaboulet, tragically passed away at a very young age, leaving a chaotic transition in his wake. When the Frey family purchased Jaboulet in 2006, they vowed to maintain and further elevate Thalabert's rightful place among the great reds of the Northern Rhone. They did this by converting to biodynamics and lowering yields drastically. In 2010, they went so far as to create a certified bird sanctuary inside the remains of the former Thalabert farmhouse. To them, this wasn't only a hallowed terroir, but a living biosphere.
The Thalabert vineyard sits on the rocky plain of Les Chassis on the left bank of the Rhone River, sandwiched between Tain l'Hermitage to the north and Pont de l'Isere to the south. In a large appellation such as Crozes, the quality of terroir is heavily varied, with preferred sites found on the stone-heavy, less clay influenced sections of Les Chassis, close to the riverbed. This area is where many of the appellations top producers grow their vines, including the famed Alain Graillot. In his book 'The Wines of the Northern Rhone' Jonathan Livingston Learmonth describes the soil as "a gravel couch (20-30 meters of gravelly stones), with around half a meter of alluvial stones of Alpine origin on the surface." It is this so-called "French drain" that sets Thalabert apart as the benchmark terroir in the southern Crozes-Hermitage.
For the farmers who work the rough terrain of Les Chassis, the Hermitage hill looms large, always in eyesight. Its towering presence both inspires and intimidates, with its noble history casting a shadow over the plain. For the Frey family and Jacques Devernois, it was always important that Crozes-Hermitage stood out on its own, independently of their iconic Hermitage La Chapelle. "Many people try to make wines here that are like Hermitage, but that's impossible. We can be influenced, but we must never try to copy," says Jacques. And with a final smile he adds, "We are very lucky with Thalabert. It has always spoken with its own voice."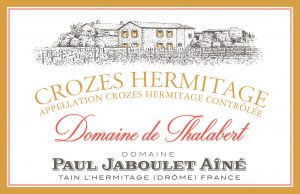 Paul Jaboulet Aîné Crozes-Hermitage 'Domaine de Thalabert' 2015
The first ever vineyard owned by Paul Jaboulet – purchased in 1834.
Biodynamically farmed
60-80+ year old vines
Vines grown on pebbly terraces that are glacial in origin, with the bedrock close to the topsoil. These round stones store heat during the day and release it at night, providing optimum and regular maturity.
Aged in French oak (20% new)
Jeb Dunnuck: 97 – "The finest vintage to date, better even than the stellar 2010, the 2015 Crozes-Hermitage Domaine De Thalabert is a gorgeous, deep, layered, and incredibly satisfying Crozes. Blackcurrants, olive tapenade, truffles and earthy notes all emerge from this full-bodied, gorgeously textured and seamless 2015. With fine tannin and no hard edge, it can be drunk today or cellaring for 15-20 years."